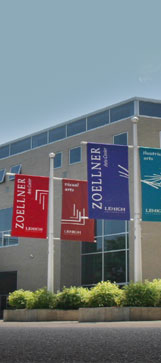 Zoellner Arts Center is home to four departments: the Lehigh University Music and Theatre Departments, the Presenting Series and the Lehigh University Art Galleries. All building resources are shared among the departments.
Zoellner houses three theatres:
Baker Hall, a 1,014-seat auditorium with a multi-purpose proscenium stage

Diamond Theater, a 309-seat auditorium with a three-quarter thrust stage

Fowler Black Box Theatre, a multi-configuration space seating up to 125
For Technical Information about our three theatres, as well as for the rest of the center, including available equipment that may not be listed on this website, please email or phone our production manager Josh Kovar at 610-758-5892.
To Rent a Venue
For rental information, please email or phone our rental manager, Becky Eshelman, at 610-758-5387.
Zoellner's shipping and mailing address:
420 East Packer Avenue
Bethlehem, PA 18015-3179
Additional Phone Numbers:
Main number: 610-758-5323
Main Fax: 610-758-6537
Green Room: 610-758-2252