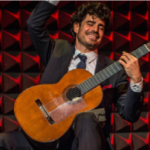 $30 | $25 | Free for LU Undergrad Students
Praised as "the soul of the Spanish guitar", Sáinz-Villegas has become a worldwide sensation known for his "virtuosic playing characterized by irresistible exuberance." (The New York Times) His musical interpretations conjure the passion, playfulness, and drama of Rioja, his homeland's rich cultural region. He is known for his emotive and open-hearted playing, whether he is performing at intimate recital halls, or playing with Plácido Domingo to an audience of over 85,000 at Santiago Bernabéu Stadium in Madrid, where maestro Domingo hailed him as "the master of the guitar." Villegas performs alongside master percussionist Nacho Arimany and Latin Grammy Award-winning bassist Pedro Giraudo in an intimate evening exploring the diverse and colorful music genres that have originated on the American continents. Click here for artist's website. 
View our Covid-19 protocols.
Masks must be worn indoors on Lehigh's campus regardless of vaccination status. 
GET TICKETS
GET LU Student Tickets
SCHOOL SHOW: Tue APR 5 | 10am | Email our Education Coordinator for more details.
With Suport From:
The Long Family Endowment for Community Outreach in the Arts