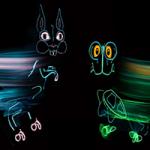 $12 adult | $10 child | Free for LU Students | Runtime 60 minutes
Fanciful lights adorn characters in Aesop's classic fable, but there's a contemporary twist: the story hops 10 years down the road, where Tortoise and Hare have children of their own who explore modern day distractions like smart phones and video games. Their adventures lead them into unexpected territory. Old Man Tortoise and Big Daddy Hare must come together despite their differences to find and save their children. Click HERE for artist's website. LU Students attend for FREE, click for more info.
Click here to view the digital playbill.
GET TICKETS
GET LU Student Tickets