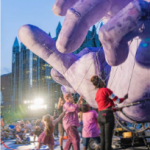 Outdoors in Tamerler Courtyard
Free; No Tickets Required
Join Pittsburgh's Squonk Opera's Squonkers as they manipulate gargantuan puppet hands (the size of houses!) to tell a spectacular and comic story. In this rock opera melee, giant thumbs detach to become truly opposable and challenge each other with guitars. Featuring original chamber rock music and an opportunity for audience members to come together to grab rigging, each individual powers a larger movement of giant fingers, a web of connections, a single dance. Hand to Hand encourages shared discovery and making a community of the imagination. Held outdoors in Tamerler Courtyard next to the arts center.  LU Undergrads attend for FREE, click for more info.
View our Covid-19 protocols.
Masks must be worn indoors on Lehigh's campus regardless of vaccination status.