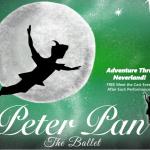 Baker Hall - Reserved seating
Based on the beloved story by J.M. Barrie, this family-friendly ballet is for the young at heart, and speaks to that part of us that never wants to grow up. "All you need is faith, trust and a little bit of pixie dust!" Join John, Michael and Wendy as Peter takes them past the second star to right, where adventure awaits with the lost boys, mermaids and pirates! The clever Tinkerbell saves Peter's life so he can have one last sword-swinging, high-flying adventure with his arch nemesis, Captain Hook. Don't miss Peter and the Darling children as they fly into Neverland!
All audience members are invited to the "Adventure Through Neverland" Event immediately after the performance, where they can meet and greet the cast with their treasure map, FREE of charge!