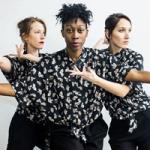 $25 | Free for LU Students
"Passion Fruit vividly push hip-hop's inherent capacity to articulate important ideas in a powerful and joyous ensemble work." (Simon Dove, ex-curator for Crossing the Lines Festival). Founded in 2016, this Street, Club dance and educational company is composed of Tatiana Desardouin (Haitian & Swiss, founder, artistic director, choreographer), Lauriane Ogay (Swiss) and Mai Lê Hô (French-Vietnamese). Its mission is to promote the authenticity of street dance and clubbing styles, Hip-Hop and house cultures and their black heritage, as well as its contribution to society, by exploring different social problems through their dance pieces and artistic practices. Desardouin was selected as one of Dance Magazine's "25 to Watch" (2020), is a winner of the Vilcek Foundation's Prize for Creative Promise in Dance (2022) and is a Winner of the Bessies Juried Award 2022. Click HERE for artist's website. LU Students attend for FREE, click for more info.
Click here to view the digital playbill.
GET TICKETS
GET LU Student Tickets