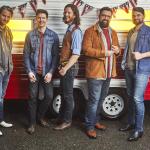 $65 | $55 | $45 | Free for LU Students
Following their victory on NBC's The Sing-Off, a cappella group Home Free have made their mark on the music scene: racking up nearly 600,000 album equivalents globally; embarking on major international tours; amassing OVER 1 MILLION YouTube subscribers, and garnering praise from Country Living, The Rolling Stones and others, these extraordinary showmen have continued to build a loyal fanbase with their harmony-laden versions of hits by John Mayer, Blake Shelton, Keith Urban, Maren Morris, The Oak Ridge Boys and more. Click HERE for artist's website. LU Students attend for FREE, click for more info. View our Covid-19 protocols.
Click here for the digital playbill.
GET TICKETS
GET LU STUDENT TICKETS
Ultimate VIP and Q&A ticket holders will receive an email 2-3 days before the show that contains all the necessary information for the package they purchased.