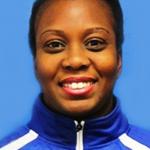 Free and open to the public
On April 20, 2022 the Delaware State University women's lacrosse team was traveling back home to their university from a tournament in Florida. While traveling through Georgia, their bus was stopped "under the pretext of a minor traffic violation" said Delaware State University President Tony Allen. During the stop, the Liberty County sheriff's deputies informed the team that their luggage would be searched for narcotics.
Head women's lacrosse coach Pamella Jenkins will share with us this story of Traveling While Black in sports. What can coaches do to help student athletes of color navigate the terrain of traveling for competition? What can white athletes do to be an ally or co-conspirator? What are athletes of color to do when they are in other areas of the country participating in their sport? 
This is a virtual event. Registration is required. Click here to register.