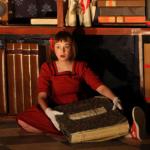 This unique company explores the madness and mayhem of Carroll's fairy tale through a creative theatricality of intertwining masks, singing, dancing and puppetry. You're invited to an unforgettable tea party where your kids can be themselves!  Click HERE for artist's website. 
BUY TICKETS  1pm* 
* Sensory-Friendly performance for children with Autism Spectrum Disorders and other sensory processing challenges.  Contact Ticket Services at 610-758-2787, ext. 0 for pricing and other details. 
Click here to download an informational flyer.
Click here to download a PRE-VISIT guide.
 
FREE pre-show activity | Noon |  Mikayla's Voice presents textured art canvases.