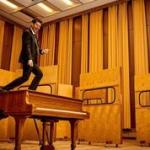 Dear Patrons,
In accordance with Lehigh University's new guidelines regarding campus events, the arts center must cancel this performance.
Ticket Services will be issuing refunds to our patrons' original payment method (If you paid cash for your ticket, a check will be issued). Due to a high volume of calls and our desire to provide timely customer service, please email the box office with questions. Rest assured Ticket Services will address your concerns, and ticket holders will receive refunds. Thank you for your patience and understanding during this difficult time. We wish the best to all.   
Ticket Services: 610-758-2787 ext. 0; email inzactix@lehigh.edu  
Welcome aboard! Take a seat on-stage and take a journey with award-winning crooner Matt Dusk as he whisks you away to an era where jazz reigns supreme. His cool and classy performance pays homage to his hero, Frank Sinatra, and includes nods to other greats like Chet Baker and soulful singers like Bill Withers. Swing along to his stylized interpretations of Just the Two of Us, My Funny Valentine, Come Fly With Me and many more favorites that garnered him multiple gold and platinum albums. Click HERE for artist's website.  LU Undergraduates attend for FREE, click for more info.
GET TICKETS  6pm Dinner & Show $62 | or 7pm show only $25, General admission
GET LU Student Tickets
Cash Bar (Beer & Wine) available on stage throughout the evening
6pm dinner ticket holders, please contact Ticket Services with your entree choice by March 25:
Cilantro Roasted Chicken Breast topped with Chipolte Cream and served with Cuban Black Beans and Rice & Sweet Potato Puree

Cilantro Roasted Salmon topped with Chipolte Cream and served with Cuban Black Beans and Rice & Sweet Potato Puree

Arepas de Queso served with Cuban Black Beans and Rice, Chipotle Roasted Sweet Potatoes & Pico de Gallo
Accompanying all meals - 
Chopped Greens with fresh tomatoes, avocado, cucumber, diced red onion, toasted pepitas & jalapeno cilantro dressing
Assorted desserts, coffee and tea
With Support From: