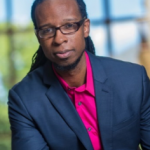 | Baker Hall | Free; Open to the Public
How to be an Antiracist
IBRAM X. KENDI is one of America's foremost historians and leading antiracist voices.  He is a New York Times bestselling author and the Founding Director of The Antiracist Research & Policy Center at American University in Washington, DC. A professor of history and international relations, Kendi is an ideas columnist at The Atlantic. He is the author of THE BLACK CAMPUS MOVEMENT, which won the W.E.B. Du Bois Book Prize, and STAMPED FROM THE BEGINNING: THE DEFINITIVE HISTORY OF RACIST IDEAS IN AMERICA, which won the National Book Award for Nonfiction.
How To Be An Antiracist weaves together an electrifying combination of ethics, history, law, and science--including the story of his own awakening to antiracism--bringing it all together in a cogent, accessible form. He begins by helping us rethink our most deeply held, if implicit, beliefs and our most intimate personal relationships (including beliefs about race and IQ and interracial social relations) and reexamines the policies and larger social arrangements we support. How to Be an Antiracist promises to become an essential book for anyone who wants to go beyond an awareness of racism to the next step of contributing to the formation of a truly just and equitable society.
Click HERE to read the recent NY Times article on Dr. Kendi. 
Supported by the Lehigh University Office of Diversity, Inclusion, and Equity; the Office of Multicultural Affairs; and Africana Studies 
This is a 

for Lehigh students. 
Click to Join Lehigh's Online Book Club
The Notations Series is presented by the Lehigh University Creative Writing Program, Visiting Lecturers Committee and Zoellner Arts Center with support from an Anonymous Donor.