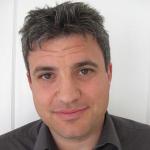 Baker Hall | Free; Open to the Public
Zirin has earned his reputation as a provocateur by being, in the words of one former critic on The Starting Five (TSF) blog, "a white man who boldly stepped into the arena of sports and race and politics—and took the side of the underdog." In the words of public intellectual, writer, philosopher and activist Cornel West, Zirin is "the finest, most important writer on sports and politics in America." Zirin underscored his reputation for alternative perspectives by authoring eight books on the politics of sports, including People's History of Sports in the United States: 250 Years of Politics, Protest, People and Play; The Muhammed Ali Handbook; What's My Name, Fool? Sports and Resistance in the United States; and, more recently, Brazil's Dance with the Devil: The World Cup, the Olympics and the Fight for Democracy.
 
Zirin is the first in a series of speakers who will come to Lehigh to explore the interplay of race with various issues under the "Race X" theme of Lehigh's year-long MLK celebration.  Click HERE for more information.  A 5 x 10 program for LU Students (inclusive leadership).