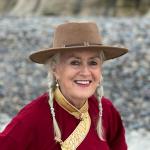 The 10th annual Dr. & Mrs. Max Littner Memorials Lecture for Bereavement presents Lama Tsultrim Allione: Taking Grief onto the Path. For the first time in lecture format, Lama Tsultrim will be sharing her life story: becoming a nun, returning her vows, marriage, motherhood, enduring the death of her child and husband, envisioning and building Tara Mandala International, a 700-acre retreat center in Colorado dedicated to the divine feminine in the Buddhist tradition. Hers is a story of taking grief onto the path the path. Hers is a story of what is possible. Hers is a story of love, loss, grief, and transformation.
Lama Tsultrim Allione is a best-selling author, most recently of Wisdom Rising: Journey into the Mandala of the Empowered Feminine (2018). She is the Founder and Spiritual Director of Tara Mandala International and the first American woman to be ordained as a Tibetan Buddhist nun. She was awarded an Outstanding Woman in Budhhism (2009), and is internationally recognized as one of the few women lamas in the world today.
Doors open at 6:30pm.
Parking in the Zoellner Arts Center Garage is free of charge with ticket purchase.
*Any student who shows their school ID at the Zoellner box office will be given a free ticket to the lecture. Lehigh University students can simply swipe their ID at the door to gain access to the lecture.