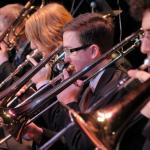 $15 | Free for LU Students | Gen Adm
Lehigh faculty and students team up to perform a program of high-powered modern Big Band Jazz pieces including McNeely, Jones, Nestico and more. These are great tunes to enjoy on a Sunday afternoon! Bill Warfield, director.
View our Covid-19 protocols.
Masks must be worn indoors on Lehigh's campus regardless of vaccination status. 
GET TICKETS 
GET LU Student Tickets