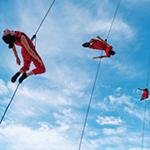 Thu, 04/13/2023 - 11:00am
Thu, 04/13/2023 - 12:30pm
Lehigh University Fairchild-Martindale Library
Free Outdoor Performance - no tickets required
Zoellner Arts Center and Lehigh University Library and Technology Services present an exciting indoor and outdoor creative activation of spaces at Lehigh's Fairchild-Martindale Library and Zoellner Arts Center to include aerial dance, educational workshops, a photography exhibit, and an artist residency.
"When Zoellner was built 25 years ago, the hope was that it would become a welcoming campus and community hub for the performing and visual arts. That goal has been accomplished with over 1 million people engaging with the building since it opened.  As we look forward, our vision for the next 25 years is to activate spaces on campus and infuse the community with art, build an air of excitement with outdoor performances, and connect with more campus and community partners to develop creative synergy.  The Zoellner team is proud to work with the staff at Fairchild-Martindale Library and the staff at NMIH to create an event that accomplishes all three goals," said executive director, Mark Wilson.
"Lehigh Libraries thrive because we find new ways to connect ideas, people, and our communities with each other. We are very excited about this opportunity to celebrate with Zoellner its silver jubilee, and to offer together a dynamic program threading our cultural history with our futures," said Boaz Nadav Manes, Lehigh University Librarian.
On Thursday, April 13, 2023 at 11 am and 12:30 pm, local school children, Lehigh students, and the community will have an opportunity to watch the awe-inspiring vertical innovators BANDALOOP turn the dance floor on its side to perform LOOM: Field on the exterior wall of the library for a school show and a public performance.  Both performances are FREE and OPEN TO THE PUBLIC. Event location: Lehigh University Fairchild-Martindale Library 8A Packer Ave., Bethlehem, PA 18015
LOOM: FIELD is part of a trilogy of large-scale, outdoor public vertical dance pieces directed by BANDALOOP Artistic Director Melecio Estrella that deepens and challenges our perspective on the art and industry of textiles. Bringing together a collective of performing artists, climate scientists, regenerative textile artists, a visual technologist, and creative riggers, the piece turns a building's façade into a giant loom where stories and dances interlace. The result of this multi-layered collaboration is spoken word, vertical dance, fabric manipulation, film segments, and original music. 
Vertical dance relies on state-of-the-science woven nylon climbing ropes; LOOM locates BANDALOOP's core technical framework in a textile lineage. The following workshops and community programs are being held in conjunction with LOOM's creative direction:
1. The Photography of BANDALOOP showcases over 25 photos from around the world of their intricate choreography and activation of public spaces. The exhibit is free and open to the public. It is located on the 6th floor of the Fairchild-Martindale Library and runs through June 2023.
2. Educational workshops will be held for over 300 students from local elementary schools who will attend LOOM, participate in a Q&A with BANDALOOP artistic director Melecio Estrella, and take part in workshops inside the library run by Lehigh Libraries staff members, Zoellner Arts Center, and the National Museum of Industrial History.
These workshops for elementary students will occur both before and after the 11 am performance:
a.     Fashion of the Future: Books to inspire & crafts to create (6th floor)
b.     Dressing for Success: Workwear of Workers ties into local textiles and industry (4th floor)
c.     National Museum of Industrial History loom demonstration explores Lehigh Valley's silk mill industry and creates a community weaving project (4th floor)
3.     Monday, April 17 at 4:30 pm BANDALOOP residency with the Lehigh University Dance Team members at Zoellner to include indoor instruction and exterior wall practice experience.
4.     Tuesday, April 18 at 4 pm BANDALOOP residency with Muhlenberg College Aerial Acrobatics class at Zoellner to include indoor instruction and exterior wall practice experience.
"Zoellner strives to engage with our community," said Z. Candi Staurinos, Director of Community Engagement and Impact at Zoellner Arts Center. "This is a wonderful collaboration between the Lehigh Libraries, the National Museum of Industrial History, and Zoellner to benefit Lehigh Valley school children and Lehigh students, the community, and local partners in celebration of our 25th Anniversary."