Sun, 05/09/2021 - 12:00pm
View this performane online APRIL 9 - MAY 9.
Zoellner Arts Center is pleased to announce On Stage At Home, a virtual Guest Artist Series that features six performances recorded exclusively for Zoellner for online release. Our fourth event showcases:
Grammy Award winner Dom Flemons is a songwriter, music scholar and multi-instrumentalist. He is an expert player on the banjo, guitar, jug and rhythm bones...just to name a few! He is 'The American Songster' with a repertoire that covers over 100 years of early American popular music and a founding member of the Grammy-winning Carolina Chocolate Drops. His performances bring musical history to life. 
Click to order: Dom Flemons 
Pay What You Can: FREE | $10 | $20* or get the entire On Stage At Home Series 
Lehigh student login: click HERE for free student access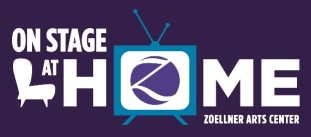 *The well-being of our community is important to us and we are excited to present these programs to you for viewing safely in your home. This series is offered at no cost. However, we ask that you consider paying if you are able. 
Please make a gift to Zoellner Arts Center so we may continue to infuse the arts into our community during these difficult times. Thank you for your support. DONATE