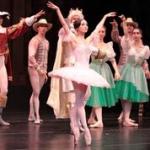 Dear Patrons,
In accordance with Lehigh University's new guidelines regarding campus events, the arts center must cancel this performance.
Ticket Services will be issuing refunds to our patrons' original payment method (If you paid cash for your ticket, a check will be issued). Due to a high volume of calls and our desire to provide timely customer service, please email the box office with questions. Rest assured Ticket Services will address your concerns, and ticket holders will receive refunds. Thank you for your patience and understanding during this difficult time. We wish the best to all.   
Ticket Services: 610-758-2787 ext. 0; email inzactix@lehigh.edu  
Tchaikovsky's adored music and Petipa's challenging yet beautiful choreography have made The Sleeping Beauty one of the most popular ballets in modern day repertoire. Be spellbound as the beneficent Lilac Fairy outwits the evil Carabosse Fairy and spares Princess Aurora in this classic sleepy fairy tale brought to luxurious life by the finest Russian dancers. Click HERE for artist's website. LU Undergrads attend for FREE, click for more info.


CANCELLED: FREE Curtain Warmer | Lecture | 3pm | Patricia McAndrew: Known for her writings about ballet and her service as a board member of the Ballet Guild of the LV, McAndrew elaborates on the collaboration between composer Pyotr Ilyich Tchaikovsky and choreographer Marius Petipa that resulted in the creation of a masterpiece.