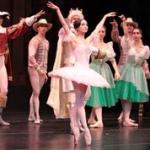 Tchaikovsky's adored music and Petipa's challenging yet beautiful choreography have made The Sleeping Beauty one of the most popular ballets in modern day repertoire. Be spellbound as the beneficent Lilac Fairy outwits the evil Carabosse Fairy and spares Princess Aurora in this classic sleepy fairy tale brought to luxurious life by the finest Russian dancers. Click HERE for artist's website. LU Undergrads attend for FREE, click for more info.
View our Covid-19 protocols.
Masks must be worn indoors on Lehigh's campus regardless of vaccination status.