In celebration of the center's 25th anniversary season, we would love to hear from you. Please submit a favorite memory you have about Zoellner Arts Center. Click HERE to share your story or enjoy these stories people have already shared!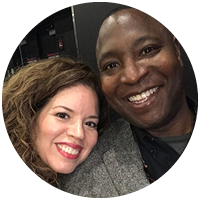 Jessica Huertas
Relationship to Zoellner Arts Center: I am an alumna of Lehigh and frequent the Arts Center as a patron.
Four and a half years ago, my fiancé and I had our first date at Zoellner to see Ranky Tanky's Cabaret/dinner show in late 2017. Since then we have seen numerous shows as date nights. We live locally and enjoy that we can see such awesome entertainment in the Lehigh Valley. -Jessica Huertas '94 & Dr. Donald Outing VP for Community and Equity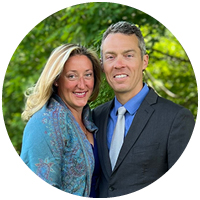 Travis V. LaBerge '98
Relationship to Zoellner Arts Center: almuni, music major
After graduating with a double major in Music and Psychology in 1998, I stayed for a Presidential Scholar Year in 1998-1999. During the fall of 1998 I started dating Christine Galli ('99) and we hit it off immediately. So much so that, after only dating for 4 months, I proposed to her on the stage of Baker Hall in January of 1999. The hall was closed that night as it was in between rehearsals and performances of "A Little Night Music" directed by Paul Salerni and Laura Johnson. Paul helped me procure access to the hall, complete with a single spotlight on the stage shining on a piano bench next to the Steinway, a dozen roses, and a bottle of champagne. Christine said "Yes," she graduated that spring, we moved to Colorado, were married in the summer of 2000, and now have 2 kids who are nearing college age. Christine and I were lucky enough to be part of the music program when it was in both Lamberton and then Zoellner. We are forever grateful to the music faculty and Lehigh for bringing us together.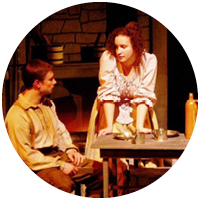 Caitlin Monahan
Relationship to Zoellner Arts Center: alumna/Theatre major
As a Theatre major (class of '08), I remember Zoellner being my home away from home. If I wasn't in my dorm or at class, I could almost always be found wandering around Zoellner, bouncing back and forth between the black box, green room, costume shop, Diamond Theater, or the various offices of the wonderful and incredibly supportive faculty. It was at Zoellner where I met some of the people I would consider to be my closest friends and fellow artists, many of whom I still keep in touch with today. The talent that passed through those halls was immense and I'm so proud to have been able to work with some of the most gifted performers I've ever met at Zoellner. (photo is of me and Steve Wojtas ('06?) in my very first production at Zoellner in 2004, "Desire Under the Elms", directed by Pam Pepper)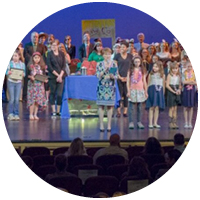 Sue Lucrezi
Relationship to Zoellner Arts Center: patron
Zoellner Arts Center has been the site of many memorable experiences throughout the years for me; authors, world-class speakers, musical and theatre productions, to name a few. But the annual production of Touchstone Theatre's Young Playwrights Festival is my hands-down favorite. Witnessing the student playwrights onstage as they absorb the love at the final curtain standing ovation gives me chills every time. Thanks for the memories, Zoellner.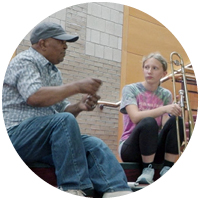 Tahya
Relationship to Zoellner Arts Center: Zoellner staff member and long-standing audience member dating back to the first season 25 years ago.
I had the privilege of witnessing 5-time Grammy Award-winning bassist Bakithi Kumalo mentor a young trombonist during the 2022 Music Master Mentors Summer Camp. Camp participants were asked to listen to a song and make any kind of notation that might help them reproduce the sound on their instrument. I observed the handful of saxophonists (who had never met before but who quickly became friends at the camp) encouraging one another and swapping ideas. Same thing with the guitar players and vocalists but the lone trombone player was sitting outside Baker Hall struggling with the assignment until Bakithi sat alongside her to help her over the hurdle. His enthusiasm quickly garnered a smile on her face and within a few minutes, they found the notes she wanted to play on her instrument! This was a memorable moment illustrating the kind of support the Music Masters Mentor Camp offers to aspiring young musicians. It was a true testament of Zoellner's goal to be a resource for the community in celebration of the arts both on Lehigh University's campus as well as the greater Lehigh Valley.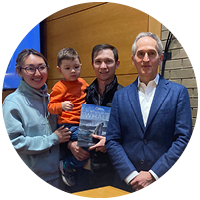 Anarbek Yelshibayev
Relationship to Zoellner Arts Center: Grad Student at Lehigh University, College of Education
Autograph Session at National Geographic LIVE: Secrets of the Whales with Brian Skerry, Underwater Photographer
Robert and Madeline Broen
Relationship to Zoellner Arts Center: member
We arrived in Bethlehem early in 1997, in time for the first Zoellner Arts season. How exciting it was! We had international star performers in our own neighborhood! That first season had massive community support - we were blown away by Ravi Shankar, Nathan Milstein and a dazzling array of stars! That couldn't last, but we stayed with Zoellner until we left our apartment downtown for Kirkland Village in 2004. Thank you to all the staff at Zoellner, notably Deb Sacarakis, for enriching our lives in Bethlehem for seven years!
Joshua Kovar
Relationship to Zoellner Arts Center: staff
In the almost 23 years of working at Zoellner my favorite event was a Musikfest presentation of Rosemary Clooney in Baker Hall. She was not in the best health and not able to walk long distances. We were required to fasten our steinway concert grand piano to the stage. Ms. Clooney's husband brought her to right off stage with in a wheelchair and then walked her to the piano. She then leaned against the piano and regaled the audience with 90 minutes of her still beautiful voice and many recollections of her long career and memories of her nephew, George Clooney.
Alice
Relationship to Zoellner Arts Center: former staff and student performer
Some of my best memories from my time at Lehigh are in Zoellner. Too many to list, but some highlights include more generally my great piano lessons and orchestra practice with Eugene and working long shifts behind the scenes with the amazing staff (a shout to Becky, Elizabeth and Josh!)... And more specifically operating the spotlight for the nutcracker show, playing as a soloist with the orchestra for the first time, and getting to meet Chick Corea and Bobby McFerrin. I learned so much in that magical place as well as met so many wonderful people. Zoellner will always have a spot in my heart.