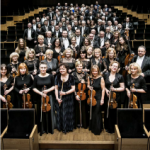 $36 | $30 | $25 | Free for LU Students
Founded in December 1944, the orchestra's beginnings go back to numerous chamber and solo concerts given by musicians, who after World War II, established ties within Poland. Their huge repertoire encompasses compositions from Baroque to contemporary music. Program: Rossini, Overture to La Gazza Ladra (The Thieving Magpie); Tchaikovsky, Violin Concerto; Beethoven, Symphony No. 5. Click HERE for artist's website. LU students attend for FREE, click for more info. View the event playbill.
View our Covid-19 protocols.
Masks must be worn indoors on Lehigh's campus regardless of vaccination status.