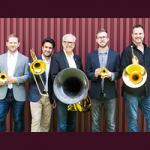 Concert Held in Packer Memorial Church - Free Shuttle from Parking Garage
$40 | Free for LU Students
Masters of concert presentations, the game-changing Canadian Brass has performed in virtually every major concert hall in the world. Renowned for genre-bending versatility and joyous performances, the award-winning Brass is almost single-handedly responsible for elevating the art of the brass quintet to what it is today: entertainment, spontaneity, virtuosity, and most of all, fun — but never at the expense of the music. Click HERE for artist's website. LU Students attend for FREE, click for more info.
GET TICKETS
GET LU Student Tickets
Parking and getting to Packer Memorial Church:  Parking will be complimentary in levels 2-4 of the garage attached to Zoellner Arts Center. There is a free shuttle from the parking garage to Packer Memorial Church.
It is a 10-15 minute walk from Zoellner's parking garage to the church.  There are also some city meter parking spots along Packer Avenue closer to the church. Doors to the church will open by 6:30pm for the 7:30pm concert.