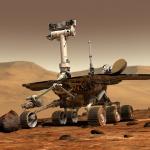 $25 | Free for LU Undergrad Students
SPEAKER SERIES: As senior mechanical engineer for NASA's Jet Propulsion Laboratory, Kobie Boykins is intimately involved with the planet Mars. As supervisor of the mobility and remote sensing teams for the rover Curiosity, Boykins has monitored headline-making studies, including proof of the former presence of water on Mars indicating that the red planet could have supported life. Join Boykins, winner of a NASA Exceptional Service Medal, as he shares his boundless enthusiasm for unraveling the mysteries of outer space and recounts the latest exciting chapter of Mars exploration. Click HERE for speaker's website.  LU Undergraduates attend for FREE, click for more info. Photo Courtesy NASA JPL-Caltech.
View our Covid-19 protocols.
Masks must be worn indoors on Lehigh's campus regardless of vaccination status. 
GET TICKETS
GET LU Student Tickets

CURTAIN WARMER | Pre-show Introduction: Be sure to arrive on time and hear Lehigh University's own astronaut, Professor Terry Hart, introduce the speaker. Hart was aboard NASA's 11th Challenger space shuttle mission in 1984.

With Support From: